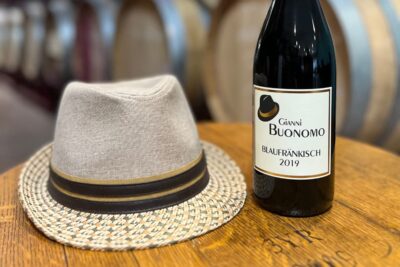 Article | June 13, 2023
Blaufränkisch Appreciation Day Picnic
Blaufrankisch is a wine with ancestry in Eastern Europe in what is present day Slovenia. How it got to Southern California is another story.
Blaufrankisch is a wine with ancestry in Eastern Europe in what is present day Slovenia.
How it got to Sourthern California is another story.
Gianni Buonomo Vintners is an urban winery located in the San Diego community of Ocean Beach. Before opening his winery, winemaker Keith Rolle studied Enology and Viticulture in Walla Walla, WA in the late 2000s. It was there where he was first introduced to this intriguing varietal that also goes by the name of Lemberger in the US.
"I loved it. My first taste had a flavor profile that I'd never had before. Cranberry, rhubarb, white pepper with a zippy acidity. It was amazing!" recounted Rolle on his initial exposure to the wine.
For the past 12 years Rolle has been bringing in Blaufränkisch grapes from Washington to his San Diego winery to make wine for his wine club members.
"Of course, when I first introduced it to San Diego nobody had heard of it. Plus, the name, with the umlaut and all,…. lets just say it was a tough sell." But as the wine began to win top awards at national and international competitions, Rolle's Blaufränkisch began to gain some real traction. "Now we have people coming in and asking for it and making sure they are on the list for future releases. We sell out every vintage."
It can be argued that Rolle has single-handedly brought Blaufränkisch to the Southern California wine market. Asked what he thought about being a San Diego Blaufränkisch pioneer, Rolle shrugged and replied, "Pretty cool. I never saw that coming."
Blaufränkisch Appreciation Day Release Picnic
Saturday, July 8, 2023
1:00 pm to 5:00 pm
Gianni Buonomo Vintners
4836 Newport Ave.
San Diego CA 92107
Picnic includes homemade grilled bratwurst, potato salad and chips. (veggie burger available), a glass of Blaufränkisch and a commemorative Blaufränkisch t-shirt.
Tickets: $15.00 Wine Club Members
$25.00 non-club members
Tickets ONLY available through SignUp Genius