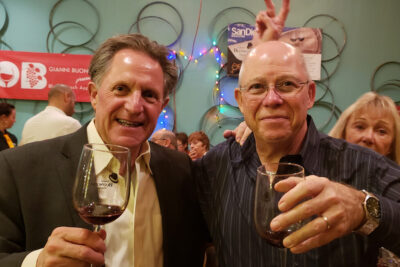 Article | January 31, 2022
Fedora Family Helping Gianni Buonomo Through The Covid19 Pandemic
A letter written by Wine Club members Suzanne and Michael Crawford.
Below is a letter written by Wine Club members Suzanne and Michael Crawford. Living within a couple miles of the winery, they have seen firsthand the devastating effect the pandemic has had on traffic to Gianni Buonomo Vintners.
Greetings Gianni Buonomo Wine Club members:
We are Michael and Suzanne Crawford, retired San Diegans, wine enthusiasts and happy Gold Band Club members. We are reaching out to you as lovers of Keith's wine.
The economic impact that COVID19 has levied on our little neighborhood winery has been difficult for us to witness. The winery we saw thriving just months ago has been reduced to only bottle sales during limited hours. We are determined to do everything we can to help Gianni Buonomo get over this giant bump in the road. We need to keep them in Ocean Beach.
We recently met with Keith and offered to write letters to all the Wine Club members urging them to help out by buying more wine. He thanked us for our offer but didn't think it was the best idea to release the names and addresses of the Wine Club members to us. So we offered to write a letter to be delivered to others.
Gianni Buonomo has had to endure the small short-term impact similar to many other small businesses. Compounding that is the very capital intensive nature of the wine business. They must commit to purchase grapes 3-5 years before they can bring these wines that we all love to market. You can imagine the economic stress this creates to make these major investments with so much uncertainty.
Gianni Buonomo's success is dependent upon retaining loyal members like us while also enrolling new wine club members.
So, what can we do to help this enterprise continue?  After considerable reflection we are asking you to consider these ways you can help keep our great winery in operation at Ocean Beach.
Please continue as a loyal Wine Club Member.
Enroll a friend or family member into the Wine Club.
Consider upgrading your wine club membership and/or purchase additional bottles of wine.
Gift an annual Wine Club membership for a birthday, Father's Day or whatever special occasion. It's often difficult to find the right gift for someone. This may be a great choice.
Whatever you can do will be greatly appreciated by all of us.  Together we can get through this pandemic and still have things in life we love like Gianni Buonomo wines.
Sincerely,
Michael and Suzanne Crawford