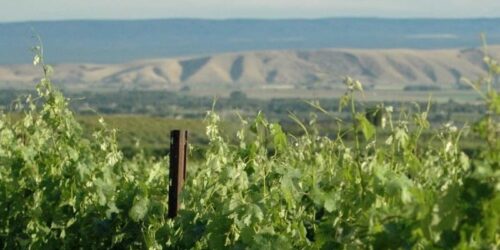 Copeland Vineyard
Zillah, WA (Rattlesnake Hills of the Yakima Valley AVA)
Management: Two Mountain Winery, Owner. Patrick Rawn, Vineyard Manager
Grapes: Cabernet Sauvignon, Blaufränkisch (Lemberger)
Canopy Management: VSP trellis, bi-lateral cordon, 8×4 spacing
Elevation: 1237 ft.
Aspect: South facing gentle slope. Cabernet Sauvignon has a Western exposure. Blaufränkisch has a very slight Eastern exposure.
Rainfall: Less than 7″ annually
Soils: Primarily thin Burke silt loam soil on top of sandy gravel. A portion of the Cabernet Sauvignon is Esquatzel silt loam soil on the same sandy gravel sub strata. There are very slight variations, but generally has about 8" of soil.