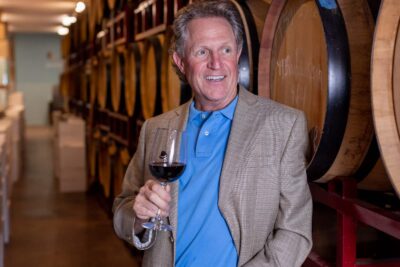 KEITH ROLLE
WINEMAKER - MANAGING DIRECTOR

Before completing his degree in Enology and Viticulture in Washington state, Keith apprenticed at the rock-star winery Long Shadows Vintners. Longshadows is a collective of seven top winemakers from around the world. It was at Long Shadows where Keith was able to rub shoulders and learn from some of the most highly regarded winemakers in the world.
A gifted hockey player from Duluth, Minnesota, Keith turned his athletic energies to running marathons. He completed 19 marathons in 19 different states and qualified for, and competed in, the 2007 Boston Marathon. After a 35-year hiatus from hockey, Keith put away his running shoes and is playing hockey again.
Keith's undergraduate studies were at the University of Minnesota and the University of Minnesota-Duluth.  He went on to graduate school at the University of St. Thomas in St. Paul, MN. Keith studied French at the venerable Alliance Française in Paris, France and Spanish at the International Spanish Institute in Mexico before founding his own Spanish immersion college in 1997, Baja California Language College, in Ensenada, Baja California, Mexico.
He is a member of SIP San Diego, San Diego County Vintners Association and the San Diego Wine Guild. Keith is a Certified Wine Judge through the American Wine Society, a member the Guild of Sommeliers and is credentialed through The Court of Master Sommeliers.
Keith speaks English, Spanish and French and is working on his Italian.