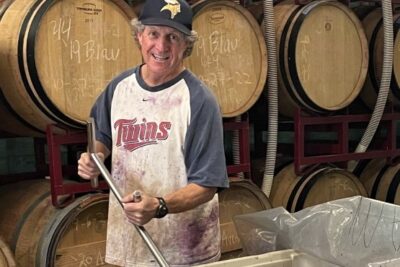 Article | December 2, 2022
From Disaster to Fortuity: Gianni Buonomo Vintners 2022 Harvest Recap
The 2022 harvest started out looking like a disaster. At the last moment, fortuity came to the party.
With the very timely help from a few wine club members, we managed to press the very last grape of the 2022 vintage on Saturday, November 19. This was by far the latest crush I have experienced in my 12 years of winemaking. What started out appearing to be another disastrous vintage, ended up being very fortuitous.
When negotiating grape contracts with vineyard owners the first decision to make is whether you want to contract by acre or by weight. Either scenario poses risks to both the grower and buyer.
How much tonnage one can get out of an acre of grapes vines depends on the varietal, crop load, age and health of the vines and weather. An approximate average that vineyard managers shoot for is 3 (light) to 6 (heavy) tons per acre. Some varietals do better carrying a heavier crop load. Older vines produce less. If you contract by acre, you can decide how you want it cropped. The price you pay will be the same for 3 tons/acre and 6 tons/acre. The big risk for the winemaker is that if you are counting on 4 tons per acre and the weather only allows for 2 tons per acre you are not going to meet your production goals. The risk for the grower is if he has a contact for 4 tons/acre at $10,000 but can only harvest 2 tons he only gets $5000.
When contracting by ton you generally get that amount. Again, much depends on the weather and how the vineyard manages the vines. Sometimes you get a little less than you contracted for, sometimes a little more.
I have always contracted by ton.
Unfortunately, due to two damaging frost episodes this spring in the Sierra Foothills, yields were way down. The big players who contracted for 30, 40 or 50 tons only got a percentage of that. By the time my turn came around there were no wine grapes left. I got shut out of California fruit this year.
However, on the fortuitous side, in Washington the opposite happened. Heading into harvest vineyard managers did final cluster counts and determined they would have a surplus. What that meant for Gianni Buonomo is that what was unavailable to me when I negotiated contracts in February suddenly became available. (Sangiovese) Plus, new varietals I had never worked with before also became available. (Tempranillo and Merlot). And, as a bonus, I could increase my tonnage.
I pounced on the opportunity.
In the end I brought in 9 different varietals this year: Syrah, Petit Verdot, Cabernet Franc, Cabernet Sauvignon, Merlot, Sangiovese, Mourvèdre (Mataro), Tempranillo and Malbec. The total weight of the grapes brought into our little Ocean Beach winery was 23 tons. That equates to about 60 barrels of wine. In two years those 60 barrels will turn into about 1500 cases or 18,000 bottles of wine.
What does this mean for you? It means that in roughly 3 years you'll have access to about 90,000 glasses of wine.
Don't you just love happy endings?