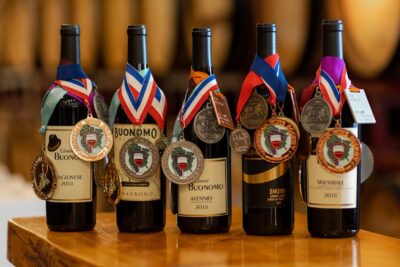 Article | June 5, 2022
Hat Trick for Gianni Buonomo
Three wines take home top honors for Gianni Buonomo Vintners with 2018 Blaufränkisch besting international leaders
Three wines take home top honors for Gianni Buonomo Vintners with 2018 Blaufränkisch besting international leaders
The 2022 Great American International Wine Competition just concluded in Rochester, New York. We are pleased to report that Gianni Buonomo Vintners scored a hat-trick of awards at this prestigious event.
The 2018 Blaufränkisch was awarded a PLATINUM MEDAL for besting all entries from the United States, Slovenia, Slovakia and Czech Republic.
Winemaker was Keith Rolle was stunned.
"When I decided to participate in the competition, I knew there would be plenty of East Coast entries because most of the Blaufränkisch in the US is grown in New York, but had no idea there would be so many international entries. The grape's origin is traced back to what is now Slovenia so to win against entries from there is special."
Winning a GOLD MEDAL was the 2018 Petite Sirah. The grapes were sourced from El Dorado County, CA and brought to Ocean Beach to vinify and barrel age. The 2018 Barbera also was awarded a GOLD MEDAL in the event.The Barbera grapes were sourced from neighboring Amador County and brought to Ocean Beach where the magic took place.
Shop these award-winning wines here