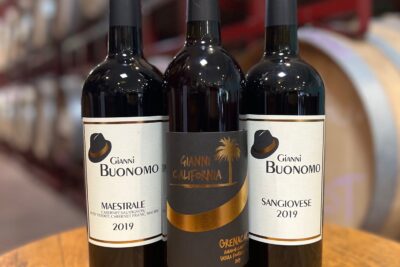 Article | March 1, 2023
San Diego Winery Releases Three New Wines to Kickoff the Spring Season
Wine tasting in San Diego has been brought to a higher level. Gianni Buonomo just released three new red wines for their Spring allocation. All these wines are available in the tasting room Wednesday – Saturday.
Three brand new wines and three completely different styles are in your March 2023 allocation.
Grenache. This is 100% Grenache from grapes I brought down from Amador County in the Sierra Foothills. I love this wine.
The brilliantly clear, reflective and super-pale ruby color suggests it's a light body wine. It is not. At 14.2% ABV it will catch your attention. Spicy strawberry jam and tart cherry notes align with subdued tannins and racy acidity. Aged two years in neutral oak barrels to preserve its fruit characteristics. Bottled Labor Day 2021.
This wine is perfect for your Easter dinner or with grilled cheeseburgers, garlic shrimp and mild cheddar.
Sangiovese. Every year I try to improve my Sangiovese by experimenting with different blends. Every year I come back to what has worked for the past 10 years. 90% Sangiovese (Grosso clone) and 10% Petit Verdot. If you have loved the 'Sangios' in the past, you'll love this one, too.
As in the past, it is made from grapes sourced from the Rattlesnake Hills in Washington.
Elegant black cherry layered with suggestions of black licorice, toasty clove and cinnamon. Deep garnet and full-bodied with a rich, long and polished finish. Drinking very well today but can cellar age for at least 10 years.
Pair with Rigatoni Bolognese, Osso Buco w/polenta and Gorgonzola.
Maestrale.  Like the last vintage of Maestrale, I lead off this Bordeaux-style blend with Cabernet Sauvignon. It is 40% Cab Sauv, 30% Petit Verdot, and 15% Cabernet Franc and Malbec respectively.
100% Washington fruit.
The Cabernet Sauvignon delivers an earthy and dusty element while the Petit Verdot highlights juicy red fruit. A delicate floral aroma shows from the Cab Franc and the Malbec brings in weighty savory characteristics.
Deep ruby and layered complex elements of juicy red fruit, lavender and pencil shavings. Elegant and refined. Drinking very well today but can cellar age for at least 10 years.
Goes great with Santa Maria-style Tri Tip, Filet Mignon and vegetarian dishes with sage and thyme. An aged Gouda would be an excellent cheese selection.
Thank you for your continued patronage of Gianni Buonomo Vintners.
Cin Cin!
Keith Rolle
Winemaker