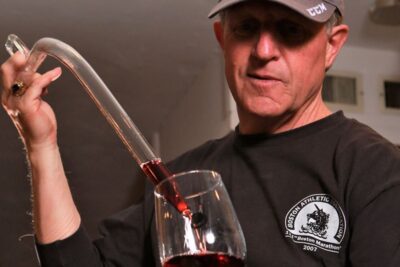 Article | March 10, 2022
Our wine making process
"…source great fruit, maintain a strict sanitation protocol, meticulous barrel management……….and a little Pixie Dust."
Great wine can only come from great fruit. Fortunately, we source great fruit. The grapes we use come from some of the top vineyards in Washington state and the Sierra Foothills in California near Placerville. Long term contracts enable us to work with grapes from the same rows in the same vineyards year after year.
This is important because it takes away the guess work of dealing with new vineyard managers and their crews each year. It is also important because we know what to expect regarding fruit quality.
"Over the years I've been able to develop close relationships with my growers. We have a very open line of communication.  I always know where the numbers are throughout the growing season; temperatures, Brix, pH, acid, whatever. This allows me to authorize vineyard management decisions while living miles away in San Diego," explains winemaker Keith Rolle.  "Basically, they grow to my specifications.
The farmers do the heavy lifting until harvest time. Once the pick order is made, the grapes are gently hand-harvested, sorted, destemmed and brought to San Diego for vinification.
While the grapes and the growers are the heart of the wine, the winemaker and his distinctive style impart the soul into the wine. "I just really try to remain vigilant to good, proven, fundamental wine making techniques.  Amazing things can happen when you source great fruit, maintain a strict sanitation protocol, meticulous barrel management……and use little Pixie Dust."