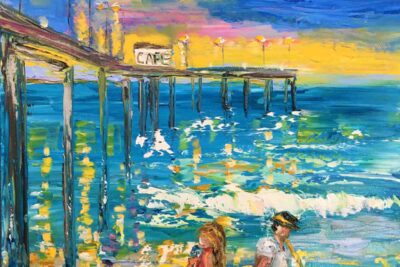 Article | January 17, 2022
Peninsula Community Supporting Youth Music at Special Event
Ocean Beach Winery Partners With Local Music Boosters.
Peninsula Community Supporting Youth Music at Special Event
Ocean Beach Winery Partners With Local Music Boosters
San Diego CA – November 2, 2021– Wine tasting, food samples from local restaurants and live student music performances will be featured at this special event hosted at The Thursday Club on Point Loma.
Tuesday, November 16, 2021, is your chance to support Point Loma school music programs.
Four years ago, local winemaker Keith Rolle of Gianni Buonomo Vintners created a single barrel of wine that he named the OB BLEND. He vowed to donate half of that barrel to help raise funds for youth music programs on the Peninsula. The wine has been bottled and is now ready to release.
Karla Lapic from the Point Loma HS Music Boosters brainstormed with Rolle to come up with an event that would showcase his wine and raise much need money for student music programs. "Our local music programs are woefully underfunded. This collaboration is a total community effort to benefit our local students' music programs," Lapic said. "100% of the proceeds and donations for this event directly benefit Orchestra and Choral programs at Correia Middle School and Point Loma High School."
The Ocean Beach/Point Loma community has been intimately involved in developing this project. The wine was made on Newport Avenue at Gianni Buonomo Vintners. Next door to the winery is Target and they generously volunteered use of their parking lot for a day so a mobile bottling unit could come to bottle the wine. The label was designed by Point Loma Heights artist Karen Tarlton. The label layout and federal submission to the TTB for approval was done by Aaron Null of Vervor Design. The Thursday Club on Santa Barbara Street is providing the event venue.
Lapic adds, "This event is a great opportunity for our community to give back and support student music on the Peninsula."
WHAT:          The Right Notes
                            Fundraiser for Pt. Loma Youth Music
WHEN:         Tuesday, November 16, 2021
                            6:00 pm to 8:00 pm
WHERE:       The Thursday Club
                            1224 Santa Barbara Street, San Diego CA 92107
COST:            Whole Note $100.00
                            Includes student music, wine tasting, small bites, and one bottle of OB BLEND to take home
                         Half Note $50.00
                            Includes student music, wine tasting and small bites
TICKETS:    https://www.correiamusic.com/rightnotes.html
INFO:         Karla Lapic  619.840.8778
Recently named Best San Diego Winery by San Diego Magazine for the fourth consecutive year,  Gianni Buonomo Vintners has earned critical acclaim by earning double-gold medals in domestic and international competitions from coast to coast. Just steps from the Pacific surf in the heart of Ocean Beach, Gianni Buonomo sources super-premium grapes from both El Dorado County, California and Washington state. Grapes are brought to the beach winery to vinify, barrel age, blend, bottle and serve in a line-up of truly exceptional, award-winning wines.